Hey yo, fellas!
We have been working a lot on our new products lately. The changes have touched our team as well, which has resulted in new collaborations and eventually new pro-models. So catch the new PILLS WHEELS 2017 wheels.
Click this link to order PILLS WHEELS 2017 aggressive inline skate wheels.
Everybody knows, PILLS WHEELS is one big experiment. When creating the wheels for the PILLS WHEELS brand, we thought long and hard about what they would be. In the end we decided to make them as different as possible, so we could experiment not only in design but also in riding. The 2017 PILLS WHEELS wheels have completely different properties. We used a new material formula to achieve maximum quality. The result is inline skate wheels with different diameters, shapes and stiffness.
And we've also added 8mm spacers to each set so you don't have to take them out of the previous wheels, for example. These bushes won't twist during assembly of the wheel, so it will be very easy to align the bearings and then bolt everything together.
Together we've created 4 new models: 57, 59, 64 and 72mm. Lately aggressive inline skating has been going the way of increasing the diameter of the wheels. And we want to make skating as varied as possible! So what have we got here?
.
DONUT 57 mm 88A aggressive inline skate wheels
.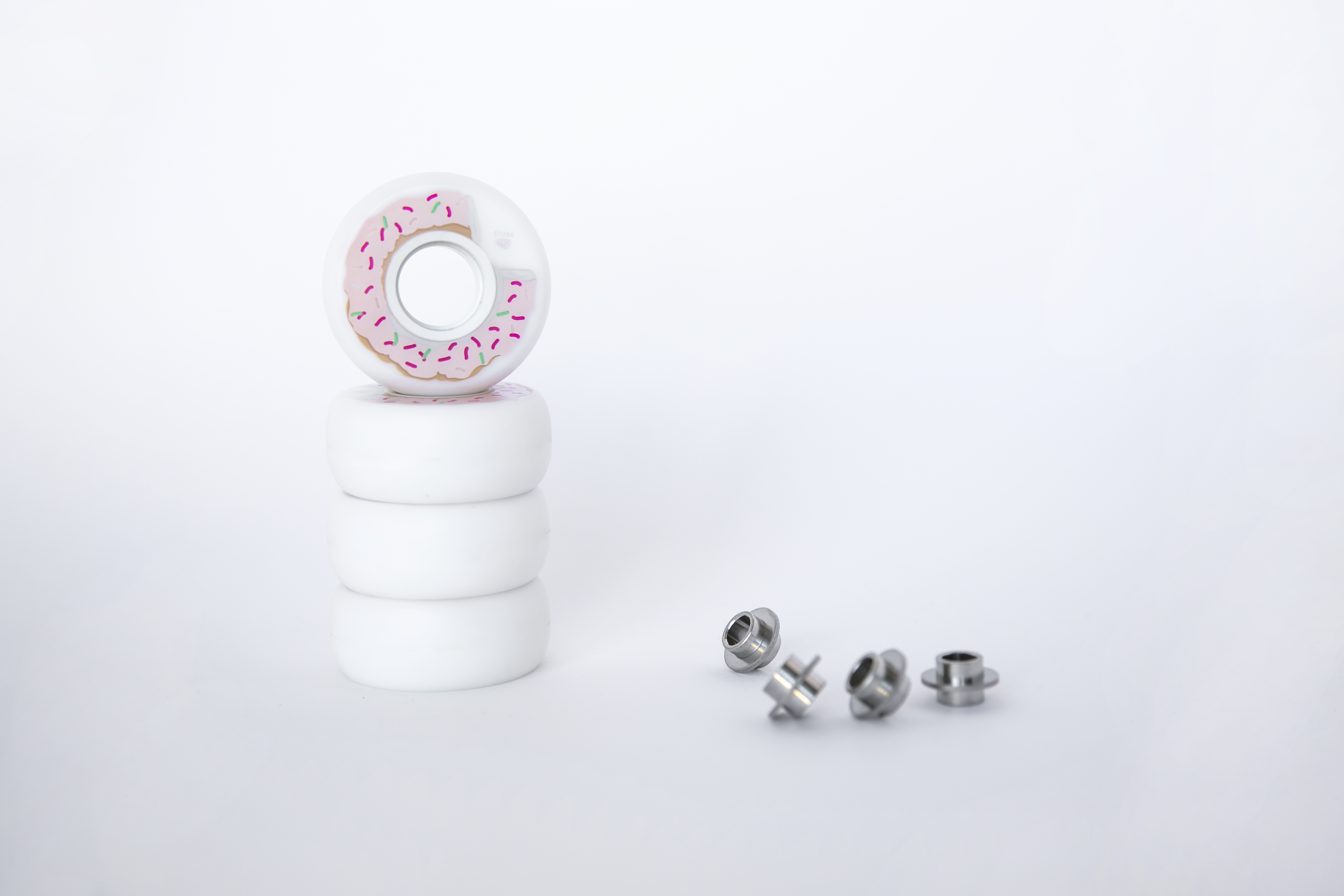 We love aggressive inline, we honour our roots, and we also love donuts. Donuts? Yes! They're very sweet.
The 57mm wheels are a classic for those who want to be squatters. Of course, another plus is that the smaller the wheel diameter, the easier it will be to get your feet in during shuffles and royal tricks over parapets. These frosted wheels have a fairly flat profile, which gives more stability on stunts and gaps, and makes them the perfect choice for aggressive inline skaters.
The wheels have a fairly flat profile.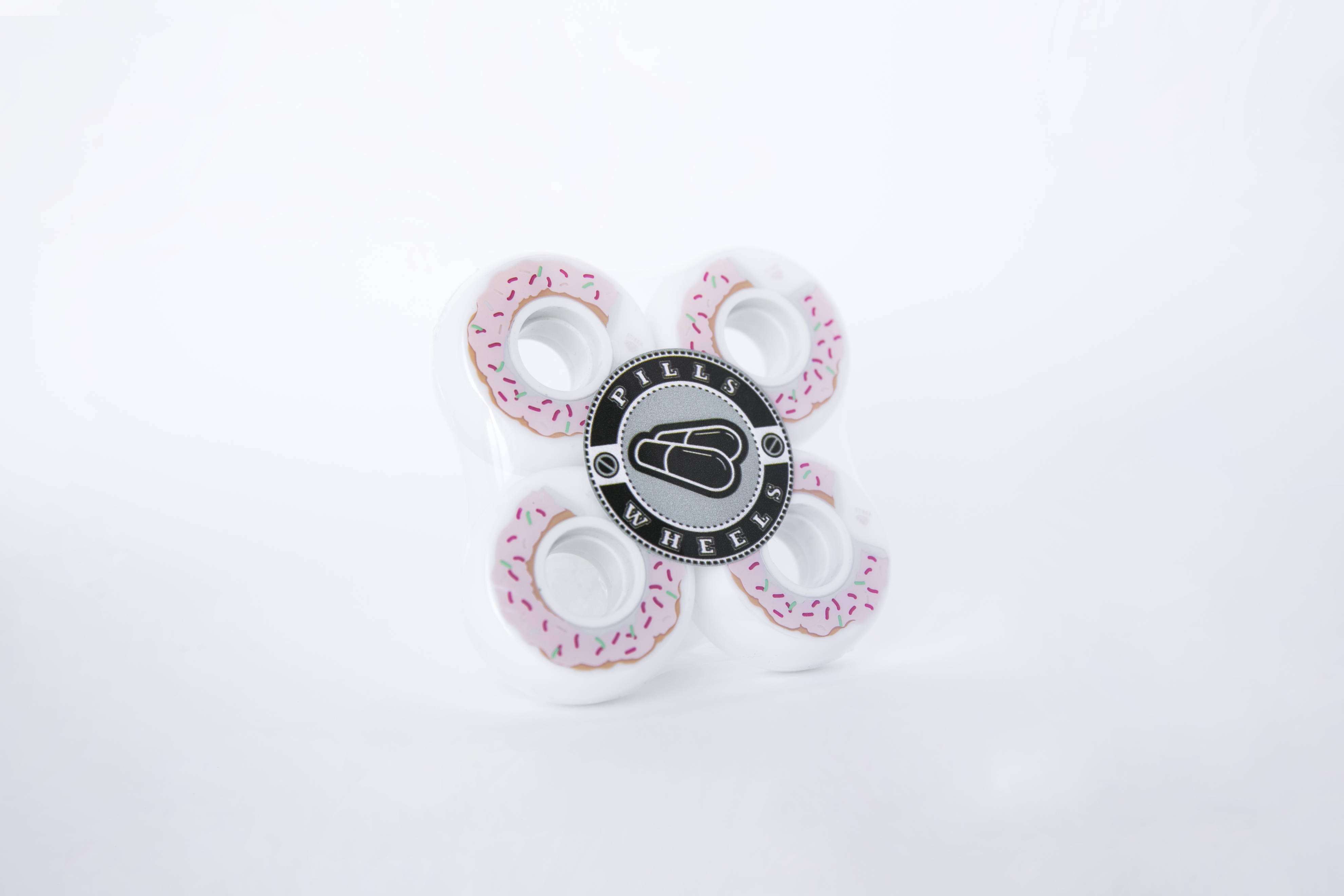 By the way, if you want to ride a flat set but don't know where to start, a small diameter is your choice. Of course, a lot of things are also affected by the shape and size of the frames. But going from anti-rockers to 57mm flats might not be a big deal.
Buy DONUT 57mm 88A inline skate wheels
SPACEKID aggressive inline skating wheels 59 mm 88A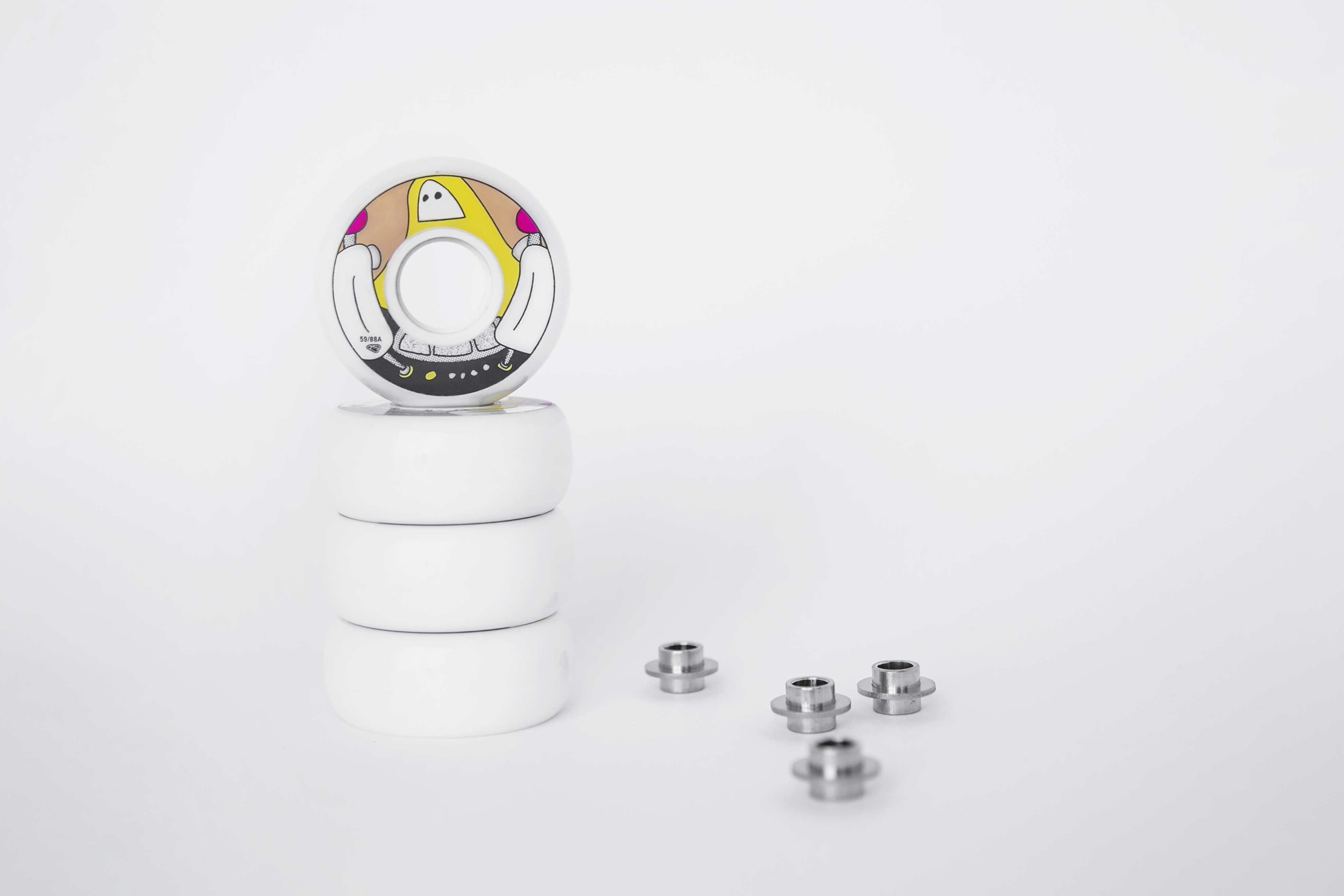 The classic PILLS WHEELS character takes on new forms. You may remember him from previous Purple Pill and White Pill models. And it looks like the invasion continues. Spacekid is rushing to take over more and more aggressive inline skates.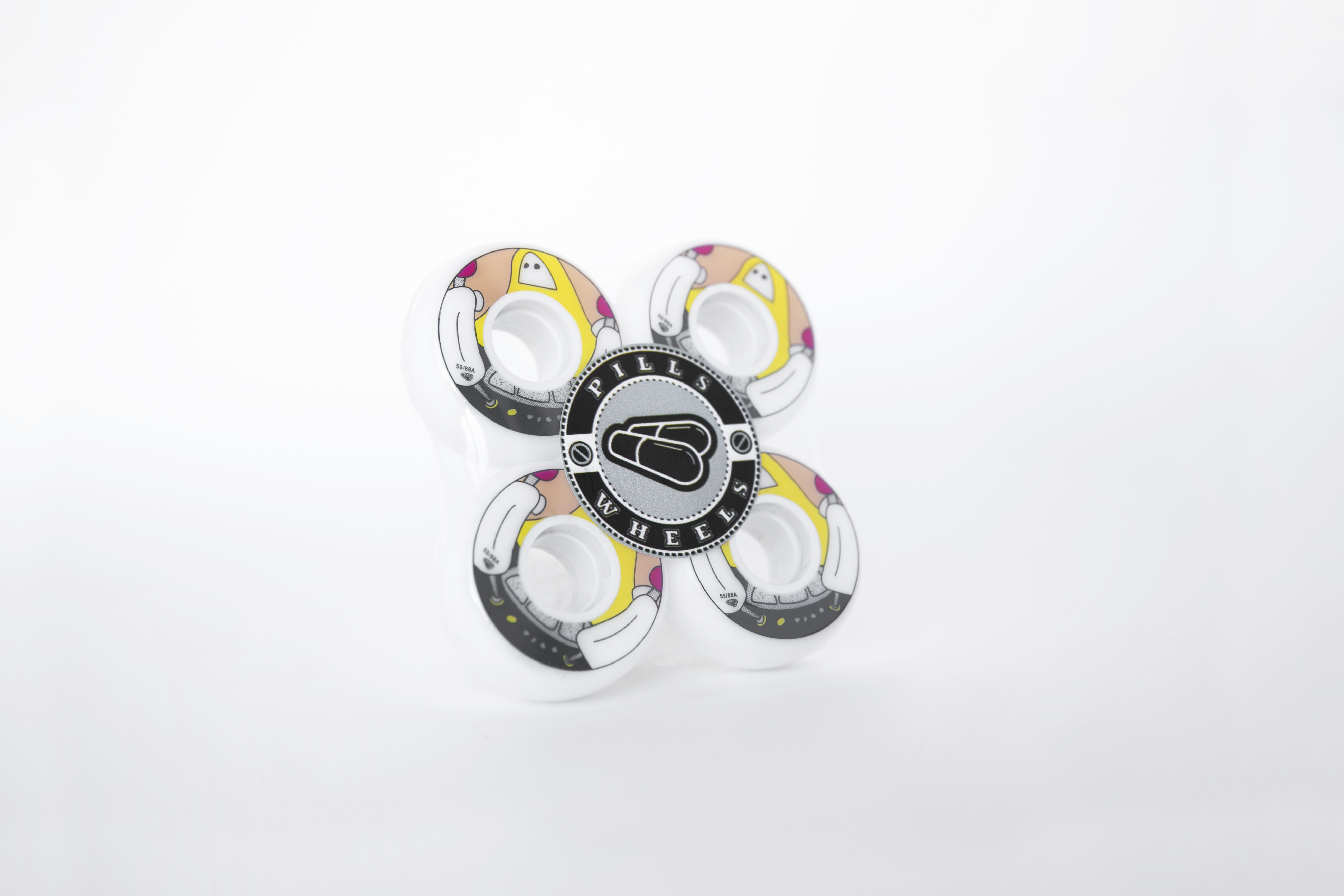 We first wanted to make 60mm inline skate wheels, but settled on 59 nonetheless. We decided to make the wheels for aggressive inline skates soft, with a stiffness of 88A, so you can ride in the park and on the street.
Buy SPACEKID 59mm 88A inline skate wheels
.
Dima Makrushin MAKRO 64mm 92A
.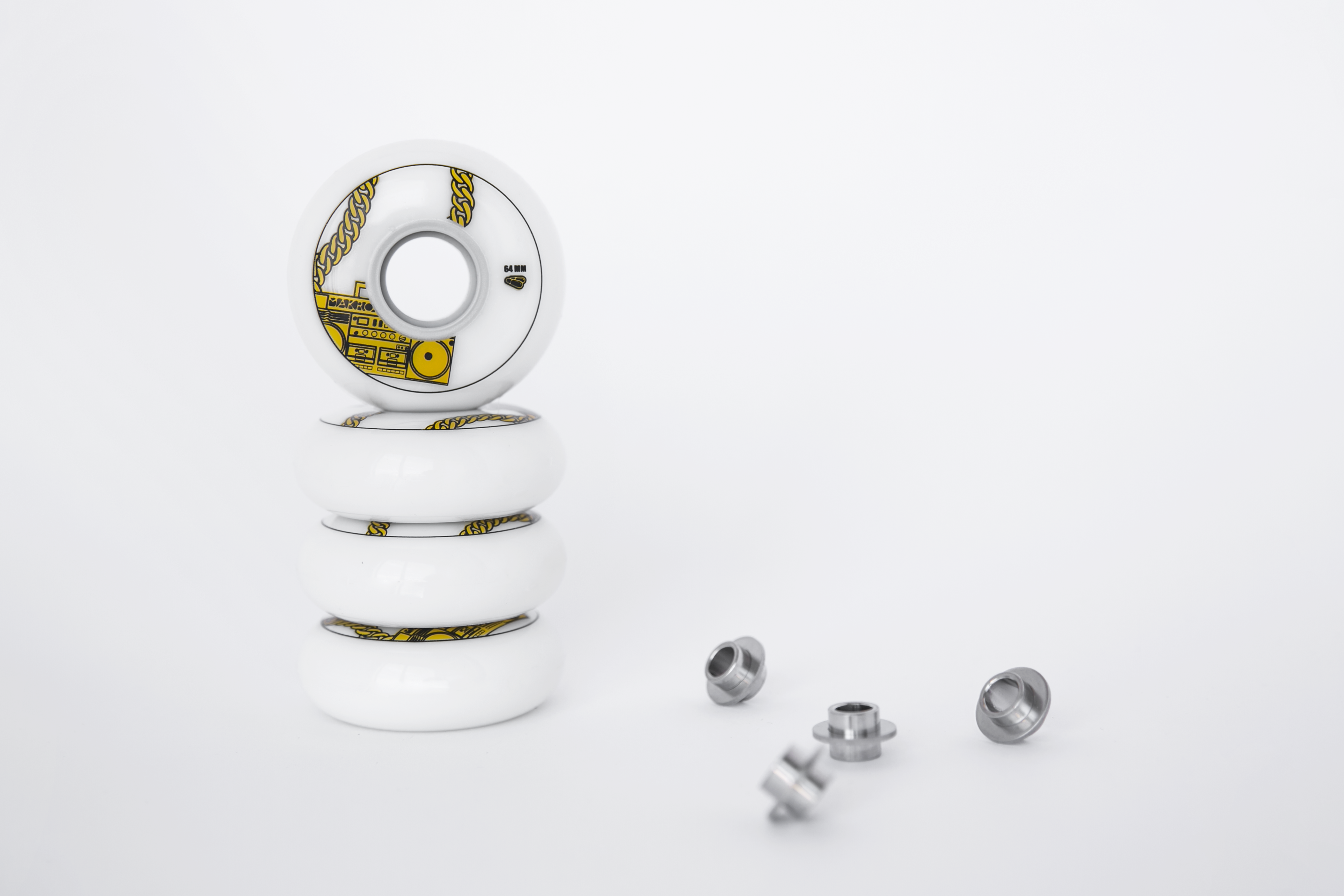 Dima Makrushin is one of the most famous rollerbladers in Russia at the moment. He races at maximum MACRO style, so we could write a few chapters on how stylish he is. This year, we've got a collab with our chillout homie. That golden ghetto blaster and a little bit of street aesthetic into your home!"
This is our second chill out piece.
This is our second pro model. This time we've used a rounded profile for more manoeuvrability, stiffness and high bounce for more durability. And here they are, the handsome, 64th wheels for aggressive inline skaters. Quite a rare millimetre these days, but if you have frames that support this diameter (such as the Ground Control MEGA), then why not.
If you have a frame that supports this diameter, then why not?
Buy MAKRO 64mm 92A inline skate wheels
BIG PILL 72 mm 90A inline skating wheels
.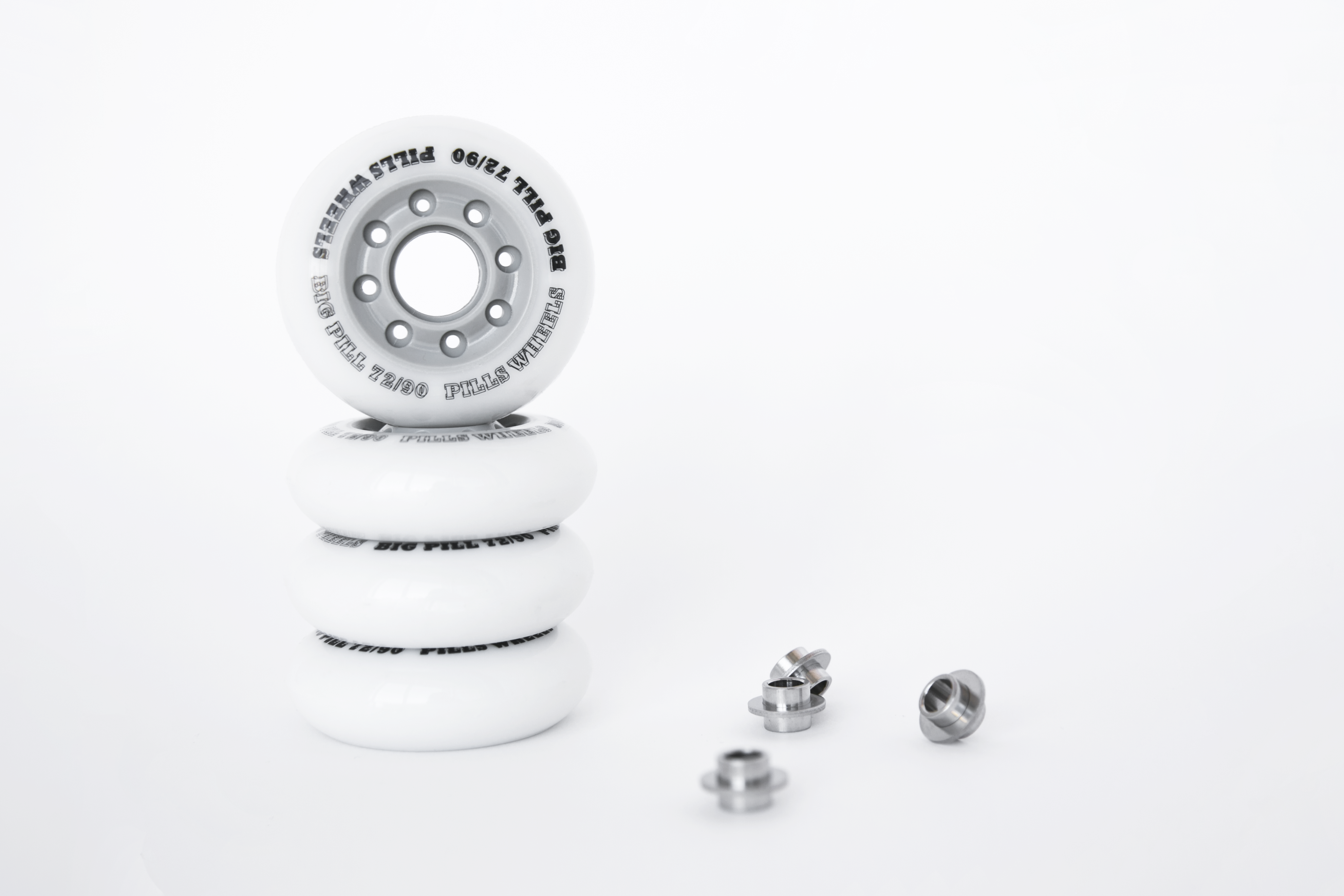 The biggest wheels in our 2017 collection. The rounded profile and fairly high 90A hardness (usually 72mm wheels are available with lower stiffness such as 84A) allow you to do new manoeuvres. The wheels are ideal for frames like GROUND CONTROL BIG and KIZER LEVEL 3. Use flat set-up to fully comprehend the big wheels.
Buy BIG PILL 72mm 90A inline skate wheels
.
Where can I buy PILLS WHEELS wheels?
Click on the list of PILLS WHEELS dealers to find out all the places where you can buy PILLS WHEELS inline skate wheels and clothing. We are constantly expanding our sales geography. So very soon our wheels will be available in all skate shops in Russia and abroad.
If you would like to be our representative and sell our products, we are always happy to meet new people. Email us!
You're welcome to contact us.
PILLS WHEELS aggressive inline skate wheels from the 2017 collection can be purchased online.